If you are having issues with grammar or you're just plain uncertain about your writing skills, then Grammarly is your answer. It is a tool to help you write that excellent essay or report. If this is your first time to hear about this online writing tool, then perhaps we at 501Words.net should be giving you a heads-up and some vital information on what is Grammarly overall. This is the Grammarly review 2019.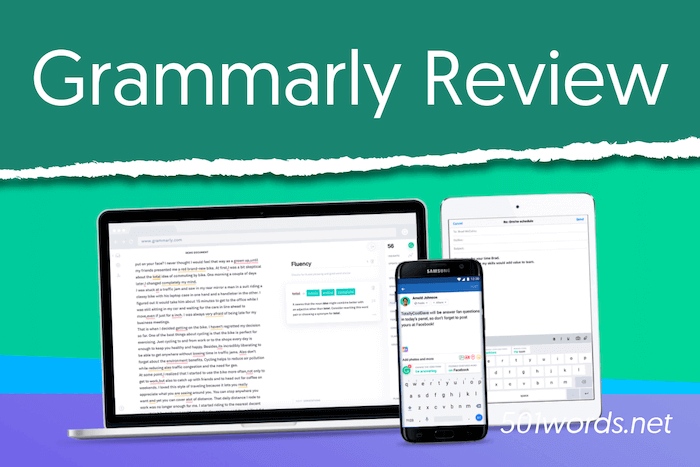 What is Grammarly?
Grammarly is an extension for your popular web browser. It is so you can write to your heart's content without having to worry about the correct grammar or spelling. It can also give you words suggestions to help improve your sentence.
There is also an app for it if you want a more intuitive and standalone version. This is best if you prefer a less cluttered workstation. It uses less memory and much more reliable than the browser extension version.
Grammarly is a writing tool not just for beginners. Believe it or not, even professionals and veteran writers use it.

Grammarly Review 2019: Features
Does Grammarly work? You see, Grammarly is more than just a grammar checker. It has some useful tricks up its sleeves. It can be used as a plagiarism checker and many more. And this Grammarly review 2019 will provide you all you need to know.
To give you a better idea of what Grammarly is and the things it can do to help you with writing, we have prepared a list. Here are all its features.
Grammarly features
Critical Grammar Checker
Spelling Checker
Proper Punctuation Checker
Genre-specific Writing Style Checks
Plagiarism Checker
Advanced Grammar Suggestions
Vocabulary Suggestions
Microsoft Office Integration
Web Browser Integration
Repetitive Words Checker
As you can see, there are a lot of features that can help you maximize your writing skills. It keeps tabs of every word that you type in. So whether you are a professional and highly skilled writer or just a student, this has a lot of benefits to offer you.
But unfortunately, not all the features are free. Most of those features mentioned are only available on the premium version. That means you will have to spend some money to enjoy Grammarly's entire offering.
Grammarly Free vs Premium
A genuinely good tool often has a price. As much as we can say that the Grammarly free version is good, it is not enough. The best version of Grammarly has a price. Here is a quick comparison of Grammarly Free vs Premium.
Grammarly Free Version
The Grammarly free version has pretty much all the basic necessities for editing and proofreading an entire article. It has a basic grammar checker to help you to avoid silly mistakes. The spelling checker is also available to let you find some erroneous spelling mistakes. And finally, the punctuation checker tells you of punctuation marks that are missing or wrongfully placed inside a paragraph.
The free version has no limits and can be used for life. There is no trial period. And you can enjoy basic Grammarly features as much as you want. There is no obligation and no pressure if you never want to upgrade to premium.
Grammarly Premium Version
The Grammarly Premium version has all the free version features but at a more advanced algorithm. To get the grammarly premium for free check here. Also, the grammar checker is a lot aggressive and will give you words suggestions that are really impressive.
Grammarly's algorithm can detect wordiness, impoliteness, unclear sentence structure, and overused words. The latter part is best for when you want to sound professional. And this tool will give you word suggestions such as synonyms or better word choice for your sentence;and if you are a user of Microsoft word you can also add Grammarly to your Microsoft word.
The premium version has also the Plagiarism Checker feature. That means if you are uncertain about the originality of your writing or another person's written content, you can use Grammarly to double check it online. Sure enough, this feature will help you check the authenticity and originality of the content.
How Much Does Grammarly Cost?
The Grammarly price for premium version is $29.95 a month. If you go for the quarterly plan, you will be paying $19.98 per month. But if you head straight for the annual plan, you will only be paying $11.66 per month.
So if you think Grammarly is your go-to for all your writing activities for the next months, we suggest that you take the annual plan. You will be saving around 60% of money right away.
Is Grammarly Premium Worth It?
Is Grammarly worth it? Yes.
If you are planning to use Grammarly for business and most of your professional work, then Grammarly is a good investment. It will give you the professionalism that you need when dealing with other people such as clients and business professionals.
Is Grammarly Premium worth it for students? Yes, it is. If you are a college student working on a lot of essays and other paper works, the Grammarly price is worth it.
You get to write more freely because you know that Grammarly will have your back. Any wrong words, spelling, or awkward grammar you make, you are covered. All you need is click on Grammarly's suggestion, and it will be fixed just like that.
You will save more time and effort with Grammarly. All you have to do then is just write what's on your mind. Just focus on your train of thoughts so you won't miss out on those brilliant ideas pouring at the moment. Worry about what you write later.
We hope that this Grammarly review 2019 has been helpful for you. So which Grammarly version are you aiming for now? Are you using Grammarly for business or are you a student? Tell us in the comment section below. If you are uncertain of your grammar, sign up first on Grammarly and then get back here to write what you want to say.