One of the famous writing tools that you can find online now is Grammarly. It is a free extension for most web browsers, but you may download Grammarly for your MS Word also for free. If you think the spell and grammar check of Word is not enough, then Grammarly would be a great backup. However, you want more services, Grammarly has a paid version, which it calls a Premium version.
Would the premium version be worth the cost? We at 501Words.net will give you a look into the differences between the free and premium versions so you could have a more informed decision about which one to use, as we share with you this updated Grammarly review.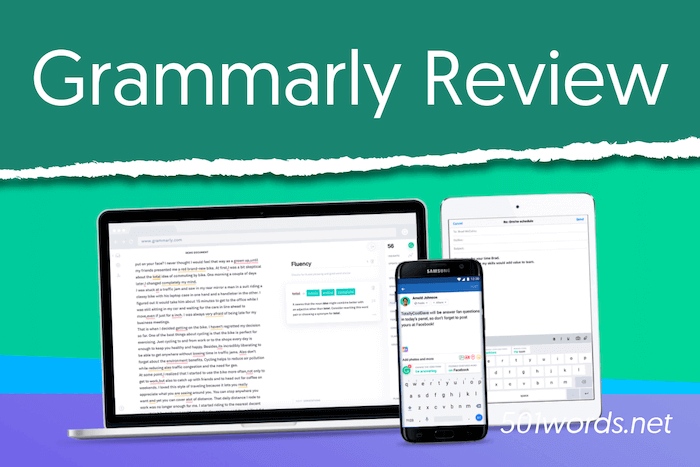 What is Grammarly?
Again, Grammarly is an extension that you can add to your browser so you can check your spelling and grammar as you type messages in your social media or in your email. It helps relieve the worries with syntax. Writers, students, academicians, almost everyone involved in writing use this tool because it allows for a clean output.
What it does is simply basic checking, just like what you get from MS Word's spell and grammar check, only more keen on the flaws. Perhaps you may have noticed that sometimes, with MS Word's grammar and spell checker, mixed up homonyms are ignored. If you typed in 'rode' but you really meant 'road', since the spelling is correct, MS Word will let it slide. Grammarly often catches such mixup.
Grammarly's a bit keener; it will highlight missing or misplaced punctuations and mixed up modifiers, like adverbs for adjectives. It will also warn you of more advanced issues, which you will only get to see if you have a premium subscription, so there's the limitation. The more advanced issues like those that have to do with substance and contents, repetitive words, dangling modifiers, and issues that MS Word would otherwise ignore would be determined by Grammarly.
Grammarly Premium 2019 Features
If you decide to subscribe to the Premium service, then you enjoy more than just spell and grammar check. Here's a list of the features that the paid version offers.
Critical Grammar Checker
Spelling Checker
Proper Punctuation Checker
Genre-specific Writing Style Checks
Plagiarism Checker
Advanced Grammar Suggestions
Vocabulary Suggestions
Microsoft Office Integration
Web Browser Integration
Repetitive Words Checker
The plagiarism checker is especially useful especially for those writing academic papers or peer reviews. Add to those bloggers, who tend to simply pick up contents from other blogs. The plagiarism checker would warn you of anything that is not original, so there's no need to use another software dedicated to checking for originality.
Genre-specific Writing Style Checks is also a charm. You can mark your piece as academic or business or blog, and Grammarly will help you figure out whether your tone or word choices are appropriate to the genre that you are writing.
Vocabulary suggestion does not only suggest synonyms so you could have variations in your words. It also determines if you have been repeating words too much or if you have sentences that begin with the same structures. Indeed, it makes sure your essay does not sound monotonous.
Advanced grammar suggestion is what MS Word often misses like dangling modifiers, articles, pronoun-antecedent disagreement, wordiness, and many others. The upside of all these suggestions for corrections, be it on a free account or a paid account, is that Grammarly provides explanations for the errors. Hence, you understand what you did wrong, and you therefore learn in the processs too. This feature makes Grammarly an even more useful tool for learners of English as a second or foreign language.
With all that you could get from the Premium version, the big question is how much do you need to avail of these services?
How Much Does Grammarly Cost?
A monthly subscription to Grammarly Premium is $29.95 per month. There is an option of a quarterly plan, for which you save about $10 monthly. Finally, there is the annual option, where in effect, you only pay $11.66 per month if the total is divided into 12 months.
If you want bigger savings, then the annual plan would be the best option. Meanwhile, if you are with a company that is involved in writing. Grammarly also has a business version, that requires at least 3 members enrolled. This would be $15 per member per month. Hence, if your work is loaded with writing, perhaps you can convince the boss to get a corporate account.
Grammarly Free vs Grammarly Premium
A genuinely good tool often has a price. As much as we can say that the Grammarly's free version is good, it is not enough. The best version of Grammarly has a price. Here is a quick comparison of Grammarly Free vs Premium including the Grammarly review our team has made to help you decide.
Grammarly Free Version
The Grammarly's free version has pretty much all the basic necessities for editing and proofreading an entire article. It has a basic grammar checker to help you to avoid silly mistakes. The spelling checker is also available to let you find some erroneous spelling mistakes. And finally, the punctuation checker tells you of punctuation marks that are missing or wrongfully placed inside a paragraph.
The free version has no limits and can be used for life. There is no trial period. And you can enjoy basic Grammarly features as much as you want. There is no obligation and no pressure if you never want to upgrade to premium.
Grammarly Premium Version
The Grammarly Premium version has all the free version features but at a more advanced algorithm. To get the Grammarly's premium version for free, check here. Also, the grammar checker is a lot aggressive and will give you words suggestions that are really impressive.
Grammarly's algorithm can detect wordiness, impoliteness, unclear sentence structure, and overused words. The latter part is best for when you want to sound professional. And this tool will give you word suggestions such as synonyms or better word choice for your sentence; and if you are a user of Microsoft word you can also add Grammarly to your Microsoft word.
The premium version has also the Plagiarism Checker feature. That means if you are uncertain about the originality of your writing or another person's written content, you can use Grammarly to double-check it online. Sure enough, this feature will help you check the authenticity and originality of the content.
Is Grammarly Premium Worth It?
Is Grammarly worth it? Yes.
If you are planning to use Grammarly for business and most of your professional work, then Grammarly is a good investment. It will give you the professionalism that you need when dealing with other people such as clients and business professionals.
Is Grammarly Premium worth it for students? Yes, it is. If you are a college student working on a lot of essays and other paper works, the Grammarly price is worth it.
You get to write more freely because you know that Grammarly will have your back. Any wrong words, spelling, or awkward grammar you make, you are covered. All you need is click on Grammarly's suggestion, and it will be fixed just like that.
You will save more time and effort with Grammarly. All you have to do then is just write what's on your mind. Just focus on your train of thoughts so you won't miss out on those brilliant ideas pouring at the moment. Worry about what you write later.
This Grammarly review is based on our experience while using the tool. We tried both the free and premium version to provide you with more accurate information that will help you decide which one to get.
Grammarly Review 2019: The Verdict
Being one of the most used grammar checkers in the world, it is no doubt that Grammarly has gained a lot of popularity in the writing industry. Aside from having a free version that anyone can use whether online or offline, it also offers a premium version that is very helpful in professional writing.
And yes, we cannot deny the fact that Grammarly is an excellent program to choose over the others. Though the premium version is more expensive than the other tools you can find, it performs better and it is more reliable in terms of corrections.
If you want to try what Grammarly can offer, then you should start using it now. Don't worry about paying for the cost. You can always choose to use the free version, or find some methods to avail the premium version without paying for it.
F.A.Qs About Grammarly
1. Is Grammarly the best grammar checker?
Grammarly is considered one of the best grammar checker and writing assistant you can get in the market. Though there are many tools you can use as an alternative, you can always never go wrong with Grammarly.
2. Does paying for Grammarly worth it?
For writing simple materials, using the free version is good enough. But if you are a professional writer or someone who writes for business purposes, then the premium version is a lot better. Aside from having additional corrections, the paid version also offers a plagiarism checker.
3. Can Grammarly help me improve my writing skills?
Definitely yes! But keep in mind that everything has its own limitations. While you want to improve your writing skill, you also need to improve your vocabulary to determine whether the recommended corrections detected by Grammarly is accurate and appropriate for the kind of material you are doing.
Which Grammarly do you choose? Let us know.
We hope that this Grammarly review 2019 has been helpful for you. So which Grammarly version are you aiming for now? Are you using Grammarly for business or are you a student? Tell us in the comment section below. If you are uncertain of your grammar, sign up first on Grammarly and then get back here to write what you want to say.